ISPROF 2013
1st International Symposium on Profiling, 2nd - 4th September 2013
1st International Symposium on Profiling
Contact: This e-mail address is being protected from spambots. You need JavaScript enabled to view it , This e-mail address is being protected from spambots. You need JavaScript enabled to view it
September 2nd-4th 2013.
Dear colleagues,
On behalf of the organizing committee, we are delighted to welcome you to Caparica, Portugal, for the I International Symposium on Profiling, ISPROF 2013.
The Symposium will be held in Caparica (Portugal, http://vimeo.com/4939136) in September 2013 during days 2nd, 3rd and 4th.
We cordially encourage you to attend and contribute to one of the major events of 2013 on the field of profiling.
We are confident that you will appreciate the scientific program and the city of Caparica.
We look forward to seeing you in 2013 in Portugal.
Symposium Subjects:
Profiling in Proteomics, Metabolomics, Biomedicine and Clinics.
Profiling in Genomics
Profiling in Environmental Analysis
Profiling in Food Science
Statistics and Informatics for Profiling
Technological Advances in Profiling
Sample treatment for Profiling
Monitoring
On belhalf of the scientific and organizing committees,
The board of Chairs
| | | |
| --- | --- | --- |
| Haral Mischak | William LaFramboise | Garry Corthals |
| Antonia Vlahou | Pedro Baptista | Aalim Weije |
| F. Fdez-Riverola | Patricia Poeta | Saskia Van Ruth |
| Gilberto Igrejas | Elisabete Oliveira | Jean-Luc Wolfender |
| Olivia Pereira | Francisco Amado | |
| Carlos Lodeiro-Espiño | Deborah Penque | |
| J-L Capelo-Martínez | Rui Vitorino | |
| Hugo M. Santos | Joao Carlos Lima | |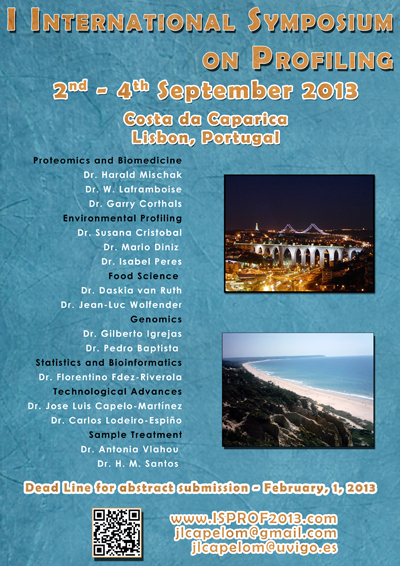 © 2012 Bioscope Research Group